Principal's
Desk
---
Message from the Desk of the Principal ​: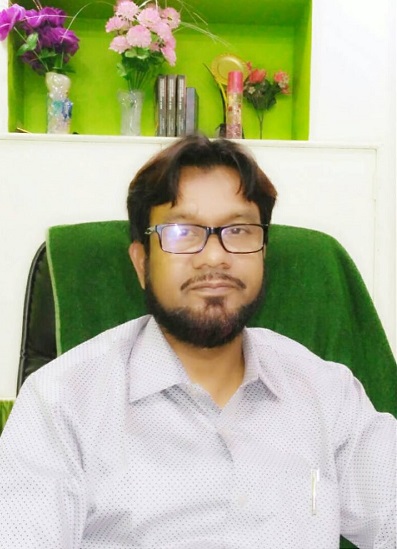 Hiralal Bhakat College,Nalhati, Birbhum primarily intends to nurture the shelved potential in students providing an ideal platform for them to channelize their creative outbursts and lend expression to their thoughts and views on various aspects in serene manner.
In spite of being situated in an underdeveloped rural set up and having a lion's share of 1st generation learners as stakeholders we have been successfully selected as one of the four colleges selected by RUSA eligible for being upgraded as a Model Degree College.
Our Institution believes that the purpose of education is to turn mirrors into windows, and as such are focused not only on pure studies but also on providing opportunity to each student to explore his or her own capabilities and their area of interest - curricular, co-curricular or extra-curricular. We aim to develop soft skills that will equip them to manage and lead the varied opportunities and challenges of the society with an added edge.
Our teachers are earnestly involved in upgrading the marketability of the academic achievements of our students. They at the same time are persistently engaged in research and publication related activities. This process of inclusive academic growth is the actual USP of our Institution.
The constant growth in information and communication related technologies in the recent past has brought about remarkable changes in various aspects of human life and led to the creation of a knowledge based society where knowledge is the most powerful tool for success. In the context, of being familiar to the latest technical advances in various fields has become an extreme need of the hour. Hence, apart from delivering excellent academic content and development of skills through practical experiences, the students are encouraged to develop interpersonal skills through interaction with knowledgeable resource persons and this entire process is made possible with the diligent involvements of the Non Teaching Staff of our college. They do always attempt to facilitate the process of academic excellence.
We believe that complete development of a student into a holistic person requires active participation of the parents too. Thus our institution is an inclusive holistic body of College Administration, Teachers, Non Teaching Staff, Students and Parents. We believe in team work and we hope for a bright future brought forward by our cumulative efforts.
( Dr.NURUL ISLAM )
Principal
Hiralal Bhakat College
Nalhati, Birbhum